Tue.11.Oct.2011


Departure Time
:
10.30am

Arrival Time
:
4pm

Weather
:
Clouds with rain later in the day

Temperature
:16
℃


In the window frame of my accommodation in Zacatecas there were plenty of cracks, an it got rather cold at night …
Through these mice or squirrels could probably get in, I suppose?
I rolled up in the sleeping bag and feel asleep.
Sleeping bag – thanks much!!!

Today the sky is clouded, so departure was in rather cold weather.

Stepping out from my accommodation, that's what I saw on the first corner.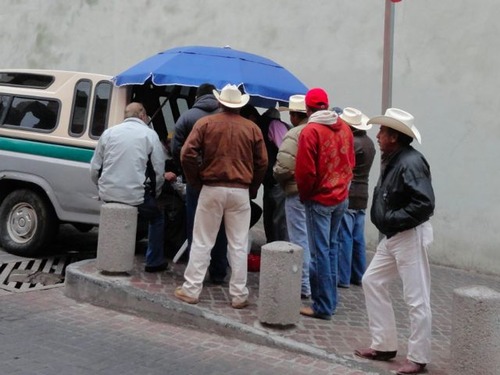 Well, it seems all are wearing Ten-Gallon hats!

All these labourers won't be buying Sandwich for breakfast, but rather Tacos.


Avoiding the town centre, I get unto the national highway.


Oh, something smells.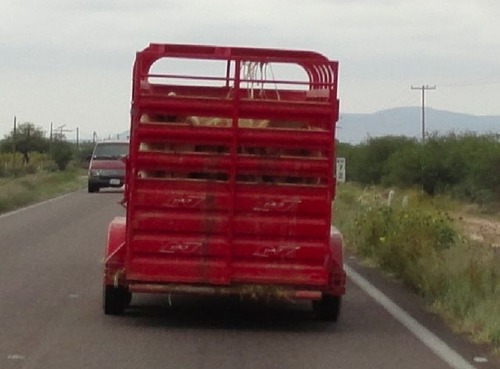 It's difficult to see on the photograph, but this is a full load of cattle.

Beef stuffing it was ;)
Again, some other odour mounts into my nose.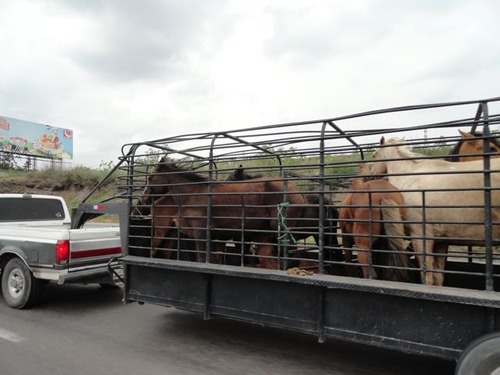 Horses.


Well, it's a relatively spacious transport this time.



Oh, this time a lot of white, soft and feathery stuff comes flying from the front.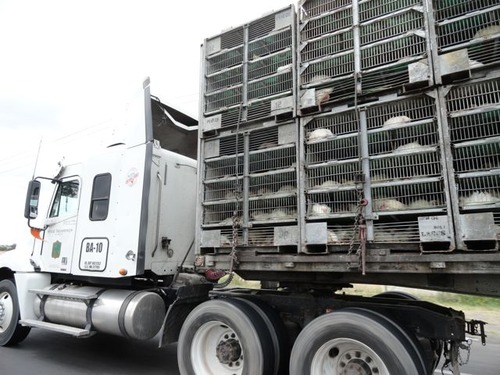 An extra large trailer full of chicken!


The pork transporter was rather awful, however ...

They were piling on top of one another like in a sardine can!


The smell was horrific, so I quickly separated from the truck without taking any pictures before dying of suffocation.

A church in Aguas Calientes, a not so small city en route.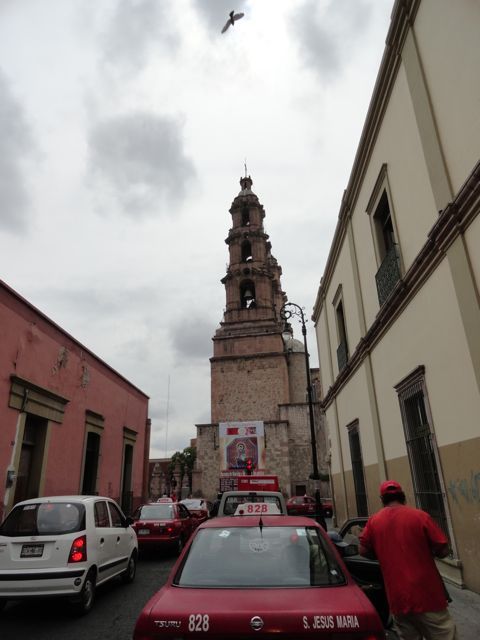 On the next intersection, I was chatted up by a white bike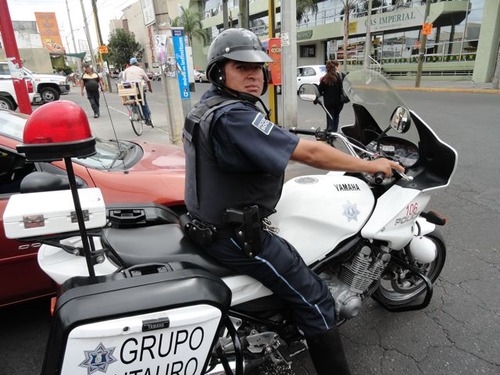 Of course, in every country, white bikes are cool!

In fact, as a kid I longed to be also part of the 'white bike' club.


What is that stuff that they sell at road crossings and other places where cars have to stop?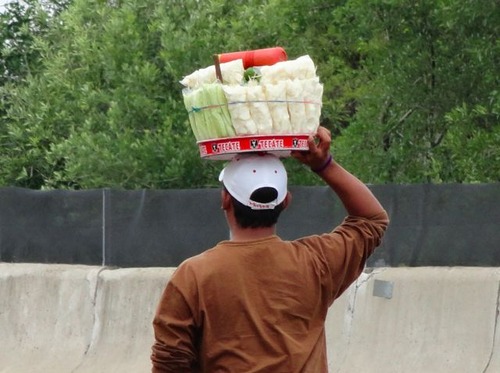 This time, let's buy and see what it is.
On a highway layby I stop and oil the chain.


In order to but the centre stand upright, I night to unfasten the left and right pannier case


But as I refasten them, no matter how, they keep moving.

If they move enough, I'm sure they'll eventually fall off.


It started raining, so I need to dress my raingear.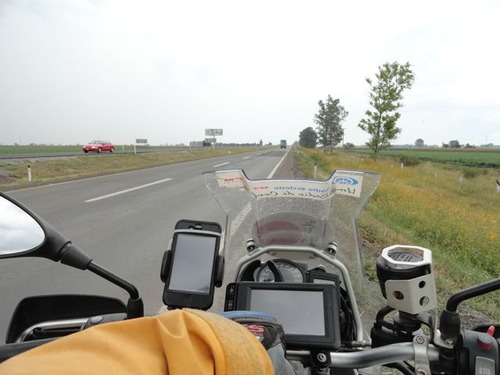 I take them out of the right pannier case, and head off again as soon as I put it all on.


And then something happened!


Suddently the bike started to behave strangely, and slightly leaning to the side


And in that moment I heard a loud BANG! Coming from the back!

Looking into the back mirror, I see one of my panniers dashing over the road surface ...



Ahhhhhh!


My right pannier has gone!
Verifying that there wasn't any car coming on right behind me, I pull an emergency break,

and then stop on the really small right side shoulder.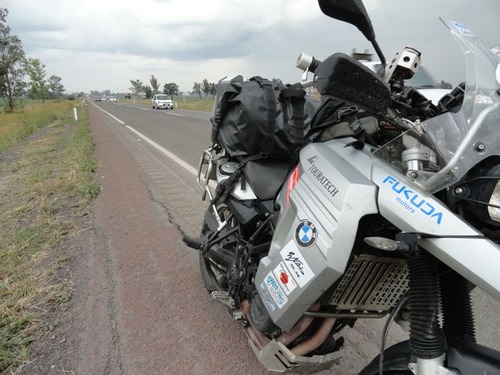 Go and get it back!?
Or rather leave it behind!?
I can see the pannier in the far distance.
I finally decide to go and get it back.
I rush.
Pannier case! - Please! I hope you survived!
Ouch.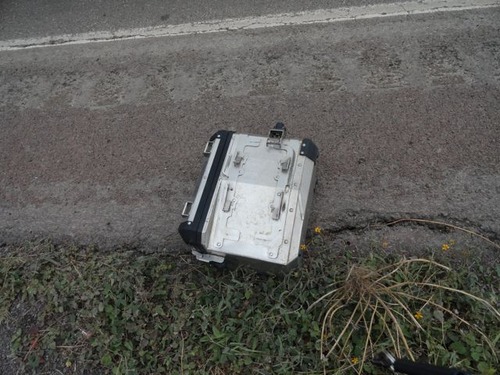 It's lying on its back.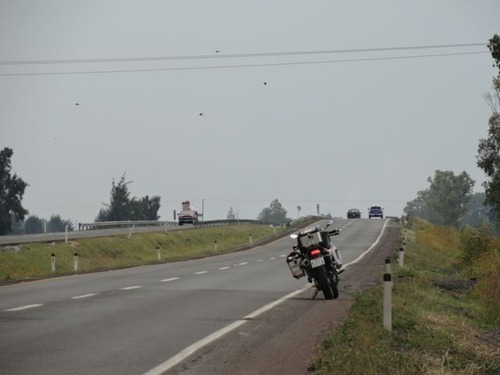 The bike looks a sad and ugly with only one pannier.

Carrying the really heavy pannier in my arms, I walk back to where the bike is standing.



I worried as I strapped the pannier case back onto the bike after it had fallen off at 80 km/h and slid back over a considerable distance on the road, made me feel worried.
Carefully, carefully strapping the pannier back on,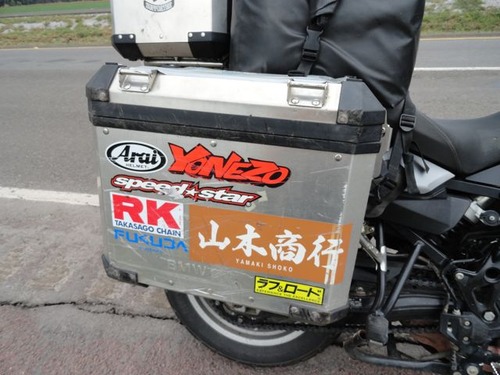 no problem surfaced and all was fine.


Luckily, the metal mechanism used to strap the pannier to the bike had remained gracefully on the upper side and undamaged by the fall the subsequent sliding and rolling around.



Wow!

On the down side, the sponsor sticker that was on the outer, and hence bottom, side of the pannier had survived the incident not quite so well …
I'll have to stick a new one on at the first opportunity.


The only explanation for the pannier falling of was evidently my own negligence in mounting and strapping it on properly


Thinking about, given what may have happened, I was lucky. What if a trailer had been behind me, or it had collided with another car behind me, or if had this heavy piece of luggage with metal sticking out of it had fallen off in the middle of the city and smashed into a someone walking

From now on, I'll do my best to guard the sponsor logos better, and will take care to be more careful when strapping on the gear.
Salamanca city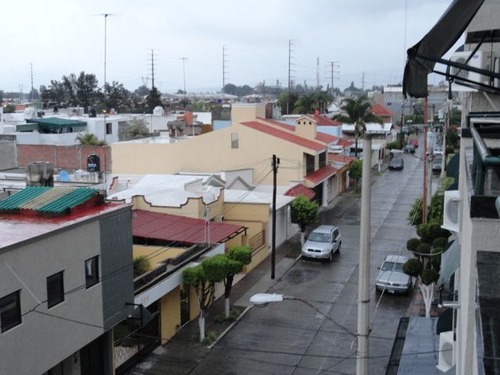 The view from the hotel room.
There's nothing special. It's a quite city.


It rains softly, but somehow this fits the city perfectly.


Watching MTV,
even the male vocalist in a promotion video wears a Ten-Gallon hat.


Seems like indispensable in Mexico for a guy to be stylish.

At the entrance to the inn, 5 national flags are displayed (I can see it from the top).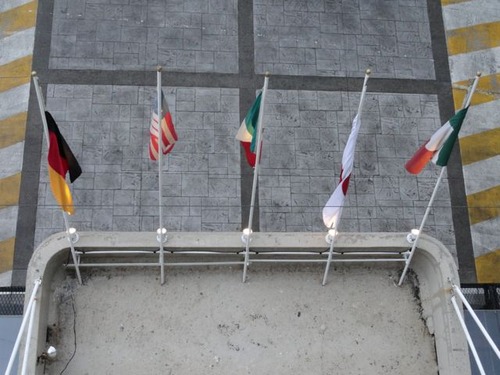 When I realised that one of them was a Japanese flag, it felt somehow emotional.
I have become a pride Japanese in my heart.
Probably would never have been the case, if it were not for having started on this journey.