Sut.15th.Oct.2011

Distance:750km
Departure time:8:30

Arrival time:20:30

Weather: Clear with some clouds, occasional showers

Temperature:7℃ー33℃

In preparation of today's long journey I planned to set up rather early, and went – as previously informed - for 7am to hotel's breakfast room.
Just to find it closed.
Asking the staff, I'm told 'in 10 minutes'.
In the end, they opened at 7.20am
I've might an appointment for 8am at the parking lot where I left the bike to pick it up, but the staff didn't unlock the entrance until 8.20am

Well, I've learned to understand the Mexican sense of 'time' ;)

Off to Palenque – a 750km journey.
If I believe the Navigation system, the road will climb progressively up a mountain.
The speed rises.

I'm going higher and higher up.
When I look at the Thermometer is just 7°C.

The altitude is more than 3000m over sea level.
The car ahead suddenly does an emergency break.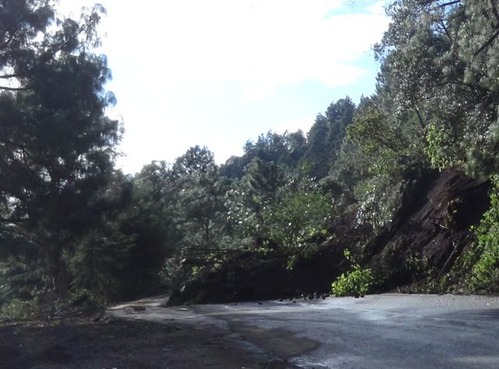 DANGEROUS!
The reason: A land slide

Like this, there is now way I now can keep up with my planned timing ...

When I left Oaxaca, I saw a beautiful sunrise, but ...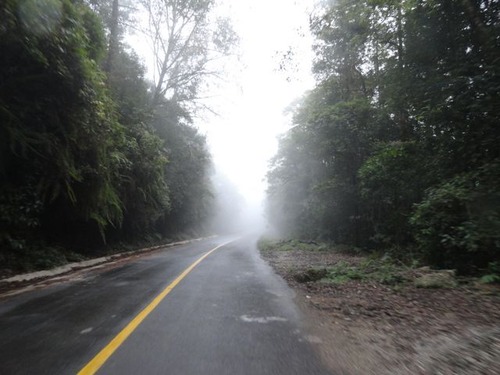 … thick fogg, rain keep me now company and make things difficult.
But obviously it's not only the weather that is a challenging.
Army check points.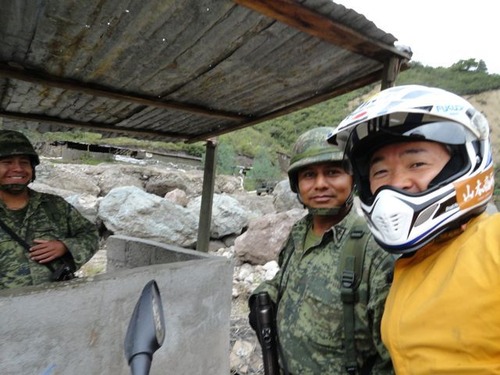 Of course, I'm here as a friend.
I do as I'm told: "Open these pannier cases and show their contents' says the soldier. And next: OK, go can continue ;)

Well, yes, we're all humans.

The most important thing is communication, isn't it.

Further along the way are many road workers, the roads are awful and on several occasions I nearly fell over.

I drive on while pushing myself to the limits.

That I didn't have a larger accident till now is thanks to my own skill – NOT, actually it's just really down to luck.

To be pride myself even a little bit, to make light of it, is probably taking it a bit too far.

Correct: jungle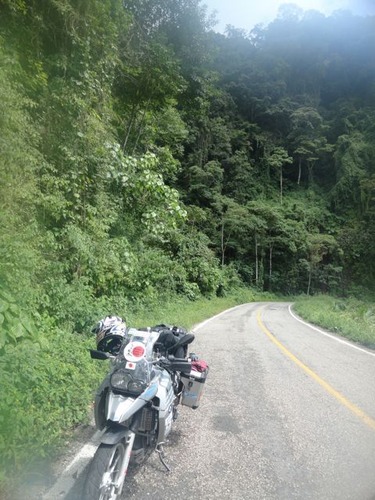 It does grow nicely, doesn't it!
Rubbish!
In reality, I've descended very rapidly from a the cold and high altitude, and drops of water formed on the camera.

Just behind the next curve I find a large rock that had fallen quite recently.

This time around, too: Narrow escape!

Must be the effect of this for the season untypical weather!

Next, I drive for 200 kilometers on a narrow

, zigzagging road over a mountain pass.
And it's already 1pm

I've still got over 500 kilometers ahead ...

Will I managed to get to my destination still today at all?!
When I reach a place that is just 5m over seas level, quite suddenly air humidity reaches a high level.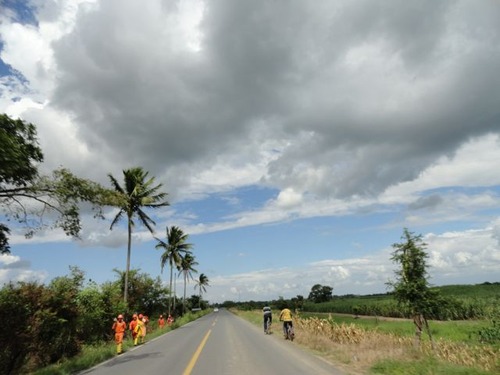 And then I spot palm trees.
And I get close to the Atlantic Ocean.
As I've still got a long way ahead of me, I start to search for a place where to have a meal – and discover a place with chicken on the grill.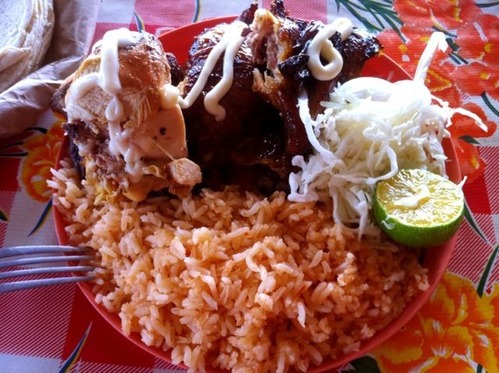 Half a chicken, rice, salad, tortilla, and a coke all for 45 Peso (260 yen)!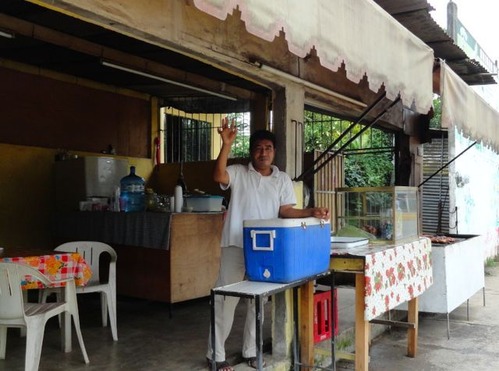 The owner of the place bids me goodbye.
This was really nice food!

From here own, I follow the meandering highway for a long stretch.

On the way there are plenty of road works, it starts to rain, stops again, I'm constantly putting on and taking off my rain gear.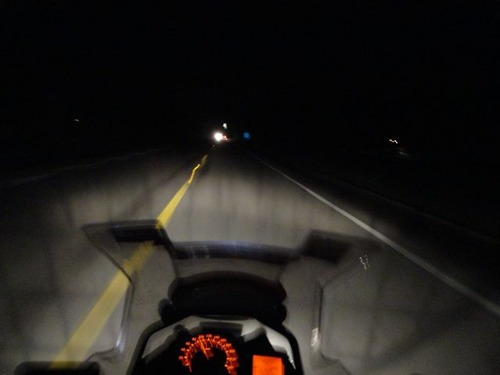 In the meantime, it's gone completely dark.
The headlights reflect on the road surface ;)

I finally arrive in Palenque, but it's so late that there is clearly no point in trying to do site seeing around this UNSECO world heritage site.

To the contrary, I have to make sure that I still get something for dinner.
Once I have figured out where my place of accommodation is, I go to the super market and buy a sandwich.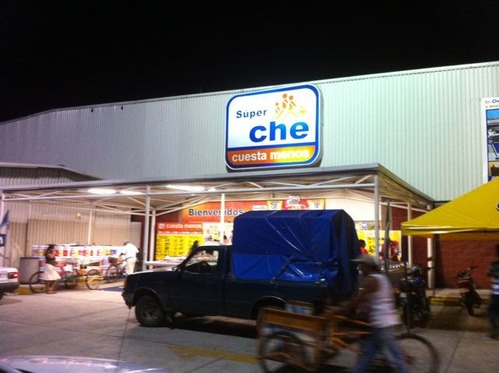 The supermarket's name is 'Che'

Probably after the famous Che Guevara.

I get the feeling that Cuba must be close.

Which reminds me: Once when I was in Las Vegas, a hotel employee in his 40s said to me "I'm a Cuban citizen". When I joked "Che Guevara I presume?" he answered with 'no, THAT really is an old story"

But, what do South American folks really think about Guevara?