Tue.18.Oct 2011
distance:190km
departure time:10am
arrival time: 3:30pm
weather:clouds with a brief shower
temperture:25℃ー30℃
In the morning, while I was preparing everything for departure, I receive a phone call
from the lobby.
They ask me to come to the lobby as there was a Japanese gentleman that wanted to meet me.
Understoof!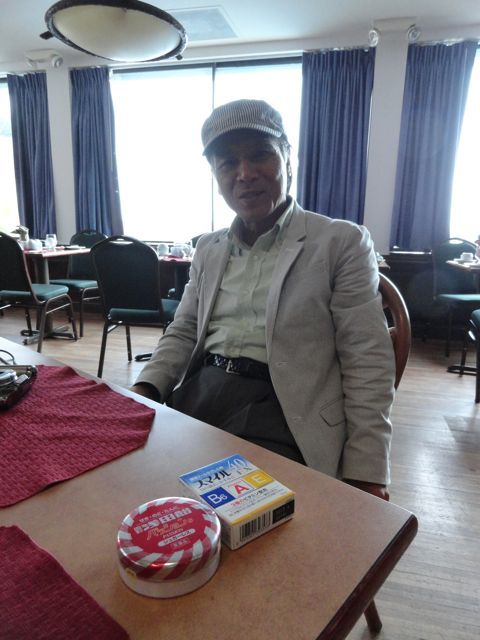 Indeed, the gentleman was a Nagamori-san by name.




He is currently in Belize in the role of a JICA senior volunteer
Nagamori-san's blog is: http://d.hatena.ne.jp/honduras/
Suddenly, the one website I was looking at just before
, will be introducing my doings!
So it seems that day I'm really going to be on TV!
As goodbye present, I was given eye drops and Asada candy.
In fact, it's what I precisely was wishing for and I'm really grateful for the presents.
It's really surprising how deeply happy I feel for the fact that a Japanese person made the effort to visit me even in Belize!
And then yesterday, for the Child Interview I was kindly and friendly taken care of by Yumi-san and Liyon-san
and have made first hand experience of how small the world really is.
We talked about how the what volunteers have in common even though each case is different, and how we all have to have faced death in one way or another, and that we all are committed to contribute to a society that gives us so naïve yet heartfelt thanks.
It all then turned into a conversation about
how I myself, in sight of all these many Japanese living abroad to contribute with their work, can better my own actions and activities.
Nagamori-san, thank you very much for dropping by to see me!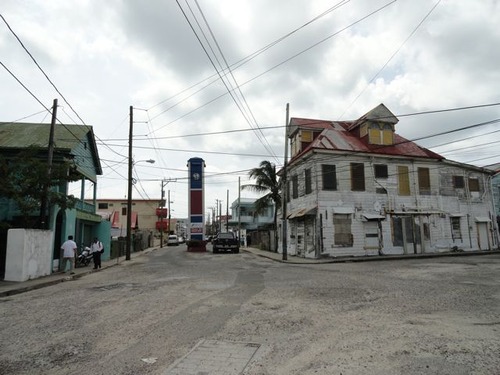 I fill up on petrol in Belize city at a petrol station in the city centre right next to the sea.

One litre cost the equivalent of 100 yen.
Avoiding the city centre otherwise, I'm heading for Guatemala.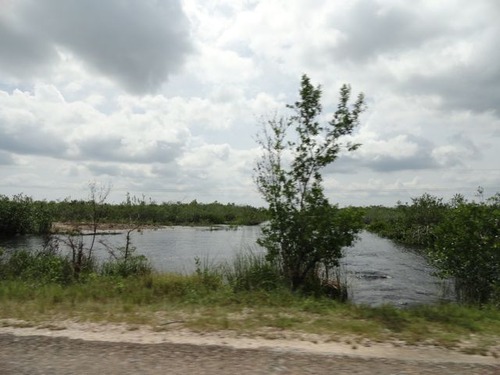 Along the side of the principle road a river flows, and the whole area is a wide reaching marshland.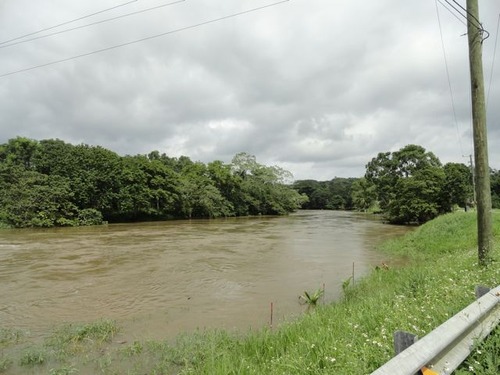 Quite a number of river taxis are driving up and down the waterway.

Other than in tourist destinations such as Venice where it is mainly tourists using the boats, here the use of the river taxis has its roots in the local culture.


Arrival at the border of Belize with Guatemala.

The data follows later.


All in all, I crossed safely and without any hitch in about 30 minutes.


The officials on both side were friendly.
The exchange rates seems fair and I exchange 30 USD into Guatemalan Quetzal.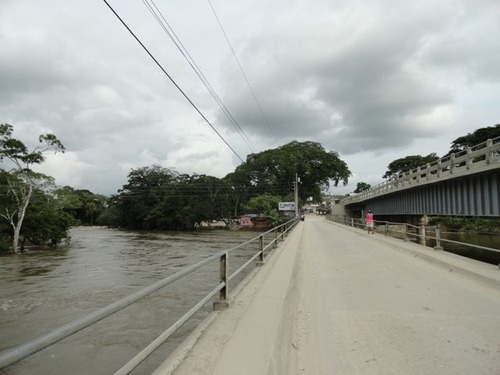 Passing the Guatemalan border.
As it's lunch time I thought eat in one of the eateries around the border crossing, but then realised that I had spent most of the exchanged Quetzal to get my permit.
Well, never mind I thought. After all this is the border, and there certainly will be eateries that would accept US Dolars as payment? Wrong! I tried it in two places and was plainly rejected both times.
In the end, I had no other option then to return to the crossing, and change some more money.

Was a bit of a waste of time.
Entering again one of the eateries, I order 'the chef's recommendation' and get pork saute, rice, avocado, tortilla all of 280 yen.

The prices have returned to Mexican average prices!!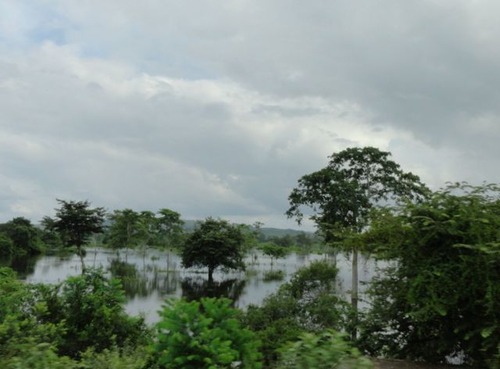 Even though I entered Guatemala, the wide marshland continues.
I was aware of that this type of 'water side' existed not only near the sea, lakes or rivers , and somehow the atmosphere feels nice.
The are is dotted with villages.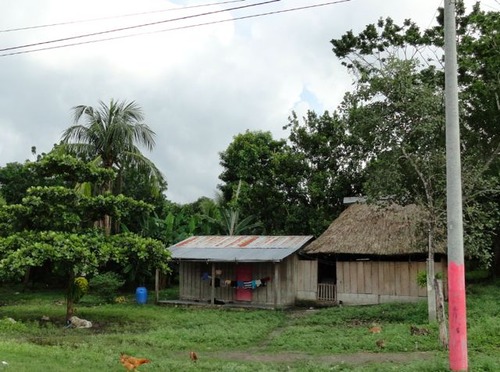 Observing the landscape while driving my bike is a really pleasurable feeling.
It's like a safer version of Africa, I say to myself.
Arrival in Tikal city.

There are remains of ancient Maya civilisation, which have merited UNESCO world heritage status.
When I arrive at my hotel,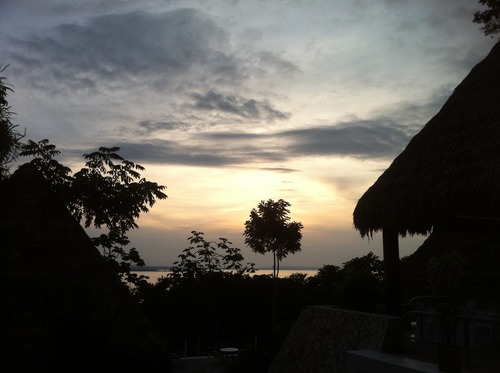 located right in vicinity of a huge fresh water lake, I am welcomed by the reflections of a beautiful sunset on the water surface.
In fact, although I'm usually unreceptive to these kind of things,
in this place, I can understand the atmosphere and the spirit of this place.

It's like the body gets cleansed from within!
In Mexico, I've largely skipped out on the study and cultural side of the places I visited, but I decided that in Tikal I'd stay 2 nights and would see the place properly.
This renewed spirit is a god sent gift, and from now now on I'll enjoy the pleasures.
<Boder information> place:Benque Viejo Del Carmen(Belize)
【Departure from Belize】
Immigration:Departure tax、30 Belize Dolars (15 USD)(15US$)、departure stamp received into passport 
Customs:&The official checked the passport. N further formalities.
【Guatemala Immigration】10meters from the Belize border.
Disinfection of luggage
(even though not actually performed): 12 Quetzal (120 Yen)
Immigration: Immigration stamp is free of charge
Driving permit160 Quetzal (1600 yen). For the permit, 4 copies are required: passport name page, page w/ the immigration stamp international driving license, vehicle registration license. There is a copy shop next door.