There is a distance more than 500 km from Ondangwa to Lubango where is the first town in Angola, so I decided to depart early as much as I can today also. But I had breakfast at the hotel and leaving there was at 7ish. I had drove for an hour then I arrived at Oshikango where is a town of border in Namibia. The Namibia border office starts at 8 am, so I waited for getting the opening in front of the entrance. When they open, I went to the immigration and show my passport for getting a stamp. An officer said "Do you have an invitation letter for getting into Angola?", and I said "I don't." Then he said "Then you cannot enter Angola, so I cannot give you an exit stamp." Indeed, I have to come back to Namibia if I refuse to enter the country by Angola but I cannot come back to Namibia and go into Angola then I will be pending if my visa doesn't work for re-entry. But telling him that can't give what I don't have, then he said "First, go to the border of Angola and ask that you can enter the country without an invitation. If they say yes, come back here then I will give you an exit stamp of Namibia." It's welcome endeavor but it's too much of a bother and takes time. In addition, I told him that I've not heard that I need an invitation letter for entering the country at the Embassy in Japan, then he seemed to go over the detail and I waited for about 20 min. He said "Sorry. It seems that you may enter the country even if there is no letter." then he gave me the stamp. And also he said that I can come back if I cannot enter Angola. I got an exit stamp at my carnet at the custom clearing window, then it's completed the process of leaving Namibia. I go to the border of Angola the next. The right hand traffic is started from the entrance of the border. I feel a bit of confusion about it. When I parked my motorbike at a parking lot, 2 men talked to me immediately. They are "Border Supporters". They say "we will help your immigration process." I've taken care all of it myself without Tanzania before, so I said "It's ok. I will take care of myself." Then they said "Do you speak Portuguese? You have to go many windows and it's tough." I think so too, so I asked them how much is the price and it's $50. I said "It's too expensive, so I will do myself." then they said they don't care about the price, so I will decide the price and pay to them when all process will be completed. I had started to have hard time right after that. I was said "If you don't have an invitation letter, you cannot be entry the country." by an office at the immigration window as my first step. I told him that I've not heard anything that I need to have an invitation letter from Angola Embassy in Japan and I have my Visa, then he checked his big boss. And he took me to another building and I was asked what is my itinerary and purpose of this trip. I told them about the purpose of this trip is sightseeing and I will go through this country to go Congo, then the big boss approved. Finally I could get an immigration stamp. But after that, the big boss came to my motorbike and said he wants have something in return. He said he wants me to buy a coke. The 2 border support men are also having bitter smiles on their faces. I said I don't know where I can buy it and I have 2 apples, so I will give them to you then he looked so happy to receive those. This big boss had helped the immigration process of my motorbike with the border supporters for me. It was useful and inexpensive as 2 apples. Well, every process was taking so long time. Every officers are working so slow. The border supporters were working so hard for me and I could get along with them. I could know there is time difference between Angola and Namibia, so I put a clock back. It was after 4 hours and a half that all the process completed and I entered Angola at last, after reaching the border in Namibia! Well, did all this process finish in one day if I did all myself who can't speak Portuguese? (LOL) So I gave them $30 as total. I paid 6000 Angola Kwanza (About 6000JPY) as something like weight tax. I did currency exchange US$ to Angola Kwanza in this border. (Exchange rate: $100 = 8000Kwanza) It is appropriate. In the last checkpoint in the border, there was a check of the contents of the load with which is loaded on the motorbike. The officer is kind but he did the severest check until now and took about 30
min at last.


Well, finally I come into Angola! I've been worrying that I can enter the country by the expiration date of visa since before I leave Japan. Especially Since I had been having wait to receive my motorbike quite long time in Nairobi, my worries has just increased rapidly, but it all became memories.

I shouted "Hello Angola!" as usual and started to drive, then the road situation is quite bad. Asphalt collapses and a huge hole from which the meteorite fell is opening the road surface innumerably. It was like "Big Whole" which I saw in Kimberly. (LOL) Like that road condition had continued for about 20 km and I had to drive 20 km per hour as average speed. I've never worried about road condition of this way because it was on the Michelin Map as the biggest national highway though. But I was thinking that what is Angola government doing while I was driving, then it changed to very nice pavement surface road when I passed through Ongiba. Well, the highway is working perfectly. I was thinking that Angola government is good! (LOL) On the way, the wreckage of a car which burned with the side of the way many sets appears. Some they left the ruin of a tank. Probably, they are consequences of a civil war. The tank which is maintaining the perfect form at left-hand side had become desertion this time. This makes me a U-turn truly and I took pictures of it.

This national road has 120 km/h and 60 km/h of the speed limit alternately, and I'm calculating the arrival time at Lubango while I was driving the road. I was thinking that if I drive like this pace, I will arrive there in the evening, then suddenly the road became bad condition again... It is worth than before that I was across the border this time. I cannot put into second gear, so I reduce and drive average speed to about 15 km. I avoid so that it may not fall to a big hole, and if it cannot do anything about, I exceed a hole at a super-low speed at the time. Since the asphalt splits off and it is like a landslide condition, I'm sure that I will fall down if I get into a hole of a deep cave-in, so I use my nerve truly. If I say that 95% of the area of a way remains in a hole and 5% is a plane, can you image it? Big trailers also pass through this road so they seem having tough time. They have more tires than motorbikes, so drive more slowly. The road of this condition had been continued for 100 km from there... On the way, there is a side road partly which was made naturally by many drivers had passed by there for avoiding this terrible national road. That road is better than other one and I can put into second gear sometimes. But that road has big puddles on the way, so I have to come back to the national road. The national road is located at high place and the side road is located at low place, so I have to drive up and down over and over. One time, when I try to go back to the national road from the side road, the big gap of a road surface has reversed me by the reaction which hit the bottom of the motorbike. The motorbike fell in the direction where an inclination is low, and I rolled the ground this time! it's been long time that I rolled the ground.(LOL) Of course I'm fine because I drove slow speed and was fully-equipped. Thank you, Rough and Road, BMW's boots&groves and ARAI's helmet! (LOL) The motorbike is laying down as the tire is higher position than the handle! Even I take all the stuff from the motorbike, I cannot raise it. I couldn't do anything then one trailer driver talked to me who came from opposite side, and helped me to raise the motorbike with his assistant. *impressive tear* The custom of helping immediately those who are in trouble is really wonderful. While I am loading the motorcycle with baggage with great difficulty, I have pushed down the motorbike to an opposite side this time. *ashamed* Seems like I'm exhausted. It is really tough that I continue driving the bad road which does not know the end. I can consider like Heaven the long dirt which goes to Swakopmund from Sesrim. It is inclination of the sun that I am always beginning to care from the middle. Mileage is inelastic at all because of a super-low-speed drive. Time for Lubango which is today's destination to be due to be reached becomes late rapidly. When it becomes darkness, it is a suicidal action that drives this bad road. But time passes heartlessly and the bad road continues merciless. Finally I came through to the nice pavement surface road! *happy* In the moment, it became a bad road immediately to have thought that I can drive just straight to Lubango from here. Can you understand this physical shock?(LOL) It is getting darkness... When it passed over 16: 00, I could see some trailer drives begin to prepare the stay in cars in the road park. I also looked at a car which has attached the bed between road surfaces the bottom of a loading platform. They are get over the long driving like this. I have to make decision to give up to reach to Lubango today and stay at somewhere also. But I don't have a tent. So it is impossible that park somewhere the motorbike and sleep. I was thinking that try to look for a big clay pipe or go to a village and ask to provide a space for sleep even fine for horse stable, but it continue the area where no people walk around. Moreover even if I can secure the place for sleep, I don't have foods. I just have some biscuits in my motorbike. And there is only water slightly. I have felt pitiable two apples which I have handed on the border and the water given to the border supporters.


When the neighborhood is becoming dark, there is a village at last and people are. I parked the motorbike on the road and walked to the place where people from the village are gathering. I was so exhausted and walk heavily. When I walked slowly, they are paying attention to me. I tried to talk to one person who is smiling friendly. But he doesn't speak English, so I use the translator application which I downloaded to my iPhone and tell him that I want to stay here, then he told me there is a town 5 km away from here kindly. *thanks* There is a town from 5 km away from there truly, and I parked and was looking for a place like a hotel around there, then I can see one guy who is pointing somewhere from far away place. I came to him then he told "Lubango is over there". I told him that "I'm looking for a place to sleep." as same way by iPhone, then he was trying to telling me the direction. When we were talking, one local who is driving looking like newly car talked to us, and he took me to the hotel and negotiation for me at last. I'm helped by people a lot. The room which I got wasn't not be able to use electricity, hot water. Water comes just little from the tap and there is only one sheets on a bed. The toilet doesn't work for flushing and a nasty smell to the extent that I feel nauseated is released. But it is better than a horse stable, and this is Heaven if I consider that a night will be passed by 1000% of uneasiness while I feel the danger of the body under a tree. In the morning, it was too heavy raining. It was like I close an ear in the volume of the sound of the heavy rain which strikes a tin roof . When I think that I might have slept outside, I feel getting a shudder. The people from this place are kind also. They serve me enough food and I got a life. They told me that the road will be good when I go little more and just straightway to Lubango. I will leave here soon in this heavy rain.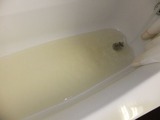 Ondangwa which is the last town in Namibia has water outage often, and colored water came out when I open a tap at last. (LOL)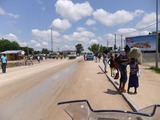 Finally I could get into Angola!! Yay! But the way is changed completely at a stretch bordering on the border.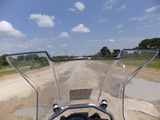 It changed terrible road right way.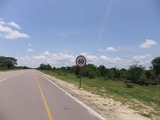 Although nice prevent surface road appears, becoming from 120 km of speed limit to suddenly 60 km of speed limit makes frustrating.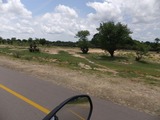 The wreckage of a car is seen here and there. There are many in old African countries.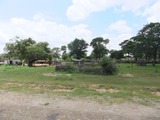 The house often seen after going into Angola.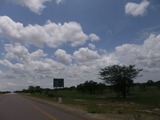 It is 400 km more to Lubango!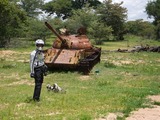 It's a real tank. Scribble was uncanny.. Although the caterpillar had collapsed, its upside machine gun was vivid.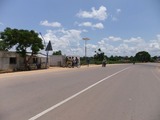 Motorbikes increased in number suddenly like Tanzania. Many males drive.
The impression of a country with water and abundant green.
This is the side road.

The heroes appeared!!






After that, I could have many chance to take pictures of kids swimming, a family washing clothes in a river and women of the tribe who walk with a toplessness but I didn't have room to breathe. I'm still learning I think. (LOL)
Finally I could arrive the place to stay and have dinner. F

ullness of the heart.
<Mika Igisu for Tatsuya Yamada>