<I've never thought that it took 7 hours for just 320 km of distance... *tired*>
It was my 3rd day staying in Luanda to work on documents work and also rest yesterday. I look for DHL to send the filming data of the interviews which I've had since Cape Town to Japan. I asked a staff from the hotel but couldn't get clear answer, so I used my iPhone to look for it and follow the iPhone map then it was there! Very useful!! On my way back to the hotel, I dropped by some shops to buy a three-pronged outlet for Africa, and I looked for bug killer for mosquitoes but couldn't find it.The server of internet in the hotel has been down since my 3rd day of staying and I cannot sent important emails which are for making appointments in Kinshasa and also related my visa etc.I heard that there is a Japanese restaurant near the hotel, so I went there for my dinner! First, the price is expensive. I found out from the internet that oil industry in Angola has gotten on the right track and started the economic bobble, so it seems that now is the term that commodity price is rising. Therefore, cost of hotels and foods are really expensive, and it is said that Angola is the highest commodity price in the world by businessmen from all over the world. Back to concerts, the restaurant will be kind of very snazzy and high-class. When I check the menu, there is "Yakitori"! *happy* I almost ordered it but I was checking other dishes, then I found "beef Katsu" aka deep flied beef! The yakitori in Cape Town was fail and I'm from Gifu prefecture where has the local specialty Miso-Katsu which is my favorite, so I ordered beef katsu this time. Also I ordered order water as my drink. I asked a server that rice is aside or not then he said it's aside. When I finished ordering, I was served water with biscuit, olive oil and chunk tuna. I thought it was just free appetizer but actually it charged. And even there is some left some on the dish, they took my place away... Then the beef Katsu came! When I saw it, I thought "it's not Katsu..." (LOL) But I ate! Well... the taste was... hmm... I left one big piece of it. Well, I got good experience. The rice was charged too, so the total price is 4000 JPY! My lesson from the trip in Africa is "I should have local delicious foods instead of looking for Japanese food one way or another. "
Well, I will leave Luanda and go toward to the next town for going to DRC Congo today. I dithered which town I should chose for next from Luanda. It is expected the bad road situation for the ocean side route which passes N'zeto, Matadi and Kinshasa as my itinerary. There is also a route via Uige which passes along the center of Angola by the national highway by the side of a mountain, and I asked many people in Luanda. Since there were many opinions that the way via Uige was synthetically safe, I decided to change my itinerary route. In the morning, I checked out and tried to pay by my credit card but the transaction didn't go through. I lost my 30 mins about it. It seems that communication circumstance is still bad at here. I paid by US dollars. When I left the hotel, I hit heavy traffic! Seemingly it is that this also symbolizes the present Angola. It seems that there is a day that it takes several hours to move just 1 km although many vehicles increased at a stretch, the infrastructure of the road has not caught up at all. It took an hour and half to go through the town! It was really painful... The road was jam-packed and everyone try to get ahead of others by slow speed like a war. One not nice guy hit my motorbike on purpose! Actually twice! Other driver who saw that I staggered got on at him. The road is not pavement surface road, so the dust rise so bad! It is the right word to be said as developing country. I thought that I want to see Luanda 20 years later from now.
After I went through the traffic, the pavement surface road has been started and it continued to Uige. But it is the winding road so I cannot be speedy. And I wanted to say again and again and AGAIN?! because there were too many police stops. Most of cars were just stopped temporarily then police let them go, but they talked to me and asked me to show my passport, so it takes time every stop. Basically police men in Angola are nice people but isn't there anything they can do... *bitter smile*
From Luanda to Uige is categorized to North part of Angola. There are atmosphere of villages on the way and touch different from former. I was the most surprised thing was the thing which hang something by a hanger. It seems some kind of animal is hanged. If it is a rat, it's huge! When I look closer, it is a monkey that is hanged like dried fruits. Actually many... There were some cars which they tried to buy the monkeys also. I missed to take photos but it was the memorable scene. (LOL)
Moreover, I saw most persons with trouble in a leg until now today. Probably because of land mines.

I've seen this type of toilet since I came into Angola. I don't use one of them so it's needless. (LOL) It was just short time to get hot water at a bath.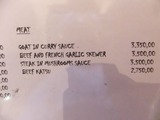 This beef Katsu was...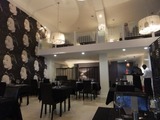 Inside of the restaurant.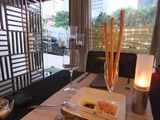 These are big pocky which is Japanese snack. (LOL)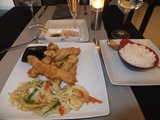 They use same deep fry batter as shrimps for this beef. It was subtle in flavor. (LOL)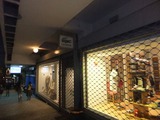 Lacoste is next to the restaurant. Brand shops will be increased here.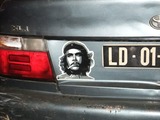 A sticker of my favorite man who is Che Guevarra was put on a car which parked on a street.
Thinking about it, I was happy that Che Guevarra was drawn on one wall as all over in Sumbe where was on the way I came from Lobito to Luanda. It is because it is the Cuba army which rescued Angola independence from the colony in Portugal. Did Che set foot in Angola?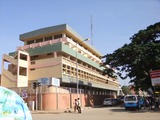 There is Radio Ecclesia when I leave Luanda. Thank you for your help.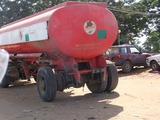 Even it loses one tire, doesn't matter. (LOL)







Please pay attention to this

tricyclic motorbike! It was written "KEWESEKI" !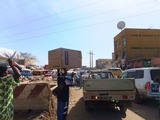 Heavy traffic...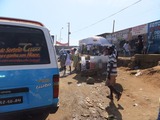 Many salesmen approach cars using this traffic. They don't lose their business chances! (LOL)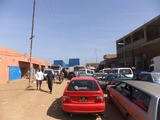 It is too hard to sneak through even a motorbike!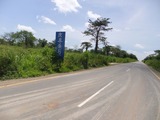 Not only Angora but there are many China business advances in Africa.
It stood out here and there.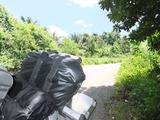 Take a break at jungle area.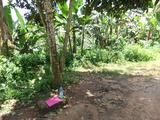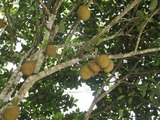 When I look up, there are some fruits. It was likely to fall on my head.
<Mika Igisu for Tatsuya Yamada>