大変な旅だった。もうその一言。笑ってもらっていいです。
ぶっちゃけ、泣きが入りました(笑)

I just can say it was really tough trip. You can laugh at me. Honestly I almost cried. (LOL)

金曜の夜だったこともあってか真夜中まで大音量を鳴り響かせる宿の中庭の音を尻目に頑張って寝た。
窓は壊れて閉まらないので夜が深まると寒くなって来た。

旅に出て初めて寝袋を使った。持ってきて良かった^^(寝袋持ってけとアドバイスくれた方、有り難う!)でももうしばらく使うことはないだろう。

いきなり警察が部屋に来て突然連行していく町とはおサラバだぜ!(笑)
ということで出来る限り早めに出発することにした。

Maybe it was the Friday night, people made loud sounds into the wee hour at the backyard in the hotel but I tried to go sleep. The window in my room was broken, so I couldn't close it and it was getting cold. I used my sleeping bag for the first time in this journey. I'm glad that I brought it. :-) (I thank to the person who told me to bring a sleeping bag to the journey!) But I think I won't use it for a while. I can say good-bye to the town which police came to a room and take a person to the police station suddenly! LOL So I decided to leave the town as much as I can.

いつものように5:00に起き、6:00を目標に出る。
想定していた悪路を走り町を抜けていくと思ったとおりさらに道の状態が酷くなる。
グラベル、砂利、ダート、深砂、地割れ、巨大水たまり・・交互にやってくる。
2時間半ほど走ったところでこれでもか、というくらい悪くなってきたところでそろそろ予定の国境付近の町に近づいているはずだ。
完全に車が走れる道はここで終了という所に村があったのでバイクを停めていると村人に(私が行こうとしていた地図上の)
「ここはバンザ・ソッソですか?」
「違うよ、それは戻って違う道だよ。こここは違う村です」という。
分かれ道など無かったのにどういうことだ?(かなり不安)
とにかくキンシャサに行きたいと、国境はありますか?というと12キロ走ったところが国境だという。

I get up at 5 am as usual and try to leave at 6 am. I drive the bad road which I assumed and passed through the town, then the road situation become worth as my expectation. Gravel, sand, dirt, deep sand, crack and a huge puddle comes one after the other. I've drove for about 2 hours and half and the road situation is getting worth than ever. I thought that I'm coming close to the town which is close by the border. There is a village at the road ends that I cannot go forward by cars or motorbikes anymore, so I parked there and asked a person from the village that "Is here Banza Sosso?" Then he said "No. You need to go back and take other road. Here is different village." There was no fork in the road but what's going on? (I'm so nervous. ) I said that "I want to go Kinshasa anyway. Is there the border close here?" then he said there is the border 12 km away from here.

よしそこへ行こうと思い道を聞くとその道だよと。
そこは完全な「あぜ道」。。(唖然)
自転車かオートバイか歩行者しか走れない道。
草木が腰丈まで生えている真ん中に土の路面が見える。
それも深い砂の部分もある。
ハンドルをとられながらゆっくり進んでいくとひどい地割れ&急激な下り坂があり、下りきった所が川。川で洗濯をする村人がいる。
その川を渡るための橋が完全に手作り。
何年前のものかわからないがその川を渡るのに失敗したトラックが川に落ちている(戦慄!)

I decided that I go there, so I asked me the way to get there then he said take that way. Its a completely footpath. It is overhung with vegetation as my waist tall and I can see dirt surface in the middle. Moreover there is a part that is deep sand. Sometimes I lost my control but I moved forward slowly then there are crack and very sudden downhill slope, and there is a river the end of the downhill slope. There are people who are washing their clothes at the river. The bridge for crossing the river is completely handmade. I'm not sure what year ago but a track which failed in for crossing the river was in the river. *shivered!*

その橋を前に恐怖におののいて(?)佇んでいるとまたヘルプしてくれる村人が3人登場。
橋の状態を見て今にも外れそうな道板を整えてくれた。
行くしかないので最悪のことを考え、全ての荷物を降ろし、身に着けているウエストバッグも、バイクに装着してある携帯電話もGPSも全て外した。
そろそろと怖々、ガタ付く道板の上をゆっくり、ゆっくり足を付きながらバイクを移動させ、やっと無事渡り終えることが出来た!

When I was standing in front of the bridge as terrified(?), 3 people from the village showed up for helping me. They checked the state of the bridge and prepared the gangplank which is likely to separate at any moment for me. I had no choice, so supposing the case of being the worst, I took down all the loads and removed all also of the waist bag which I have put on, the mobile phone and GPS with which the motorbike are equipped. I move a motorbike, a leg being slowly attached in the gangplank top which shakes, and was able to finish crossing safely at last!

手伝ってくれた村人に御礼をしている所に進行方向から女の子を乗せたバイクの男性がやってきた。
僅かな英語が話せるので嬉しかったが自分は国境の係官だという。
私が向かおうとしていた所のだ。村人も彼はそうだと。
「パスポートを」というので差し出すとビザの日付を差し、アンゴラ国内での滞在期限が切れているという。そんなはずはないでしょ。
2月17日は入国の期限でそこから30日の猶予があるはずだと伝えても一切ダメ。
「私がイミグレーションの人間だからスタンプは押せない」と。

When I was thanking to them, a man who picked up the girl behind the motorbike from the direction of movement came. I was glad that he can speak English a little and he said he's an officer from the border. The village people said so too. He asked me to show him my passport, so I showed him then he pointed the date of the visa and said it's already been expired for staying in Angora.It's impossible. I told him that the date which is February 17th is the deadline for coming into the country, so I have 30 days to stay in Angora but he said "I'm an officer at the immigration and cannot stamp it."

確かに以前ポリスストップでも警官にそこを指摘されてたが言葉が通じないのでそこでは通過していた。とにかく滞在期間延長の許可を取るためにマケラに行かなければならないという。
せっかく朝早く起きてマケラを脱出(?)してきたのにまた戻るのか!!
しかもこの2時間半走ってきた悪路を!
彼は私のパスポートを預かったまま返さないので仕方ない。

Actually a police man pointed out it at a police stop before but I couldn't understand the language,so I could pass there. Anyway I have to go back to Maquela for getting the permission for extending my stay. I have to go back even I got up early in the morning and escaped (?) from Maquela!!? Moreover, gotta go back the terribly bad road! He's kept my passport and never tried to give me back, so I have no choice.

一瞬、精魂尽き果て、マケラに戻る道中、何度も転倒するはめに。
転倒の度にその係官がバイクを起こすのを手伝ってくれたのは有り難かったが・・。
結局マケラで偉い上司の承認を終え、また酷い悪路を戻り国境に向かうことに。
まったく同じ道をまた行く。
私が行こうとしていた道は途中あったが地図の間違いだったようでそれは通っていける道でなかった。
どちらにしてもだが、そういえばウイジェのホテルのスタッフが
「その国境は車などで行くところでなく、歩いて行く場所と聞いていますよ」
と言っていた言葉は正に真実だった。
誰も車で行く人、来る人がいない。

I was beat-out on the way back to Maquela, so I fall down many times. Each time the officer helped me to stand my motorbike back and I thanked him about it though... At last, I got an approval from hi big boss in Maquela and had to come back on the same bad road to go to the border. I drive completely same road again. Although there was a way to which I am trying to go on the way, as it was a mistake in a map, it was not a way along which I can pass. I come to think of it, the hotel staff in Uige said "I heard that the border is located that we go by walk not by cars." and it was really true. Nobody comes by cars.

二度目になる往路は少しは慣れたこともあり少し早いペースに。
そして私と共にまたイミグレーションの係官が一緒に国境まで行ってくれることになり、そしてそこで彼自身がスタンプを押すのだと。
もう二人でツーリングを楽しもうと気持ちを入れ替えるようにした。
長い、長い、マケラから国境までの旅だった。
例の川渡りも二度目を無事終えさらにその後の道が想像を絶する道@@ 
撮影写真が無いのは私の精神状態を表していると思って下さい(苦/冒険者失格)

Since I grew familiar with the second outward trip for a while, I have driven at the somewhat early pace. And the officer come to the border with me and he said he will stamp to my passport by himself. I got a grip that I try to enjoy the touring with him. It was long long trip from Maquela to the border. I was a way where the river passage also finishes the second time safely, and also a subsequent way is beyond imagination. Please understand that there is no pictures means I had no space to do it. (*tough* being unfit venturer)


やっと、アンゴラ側の国境に到着してその係官が無事出国スタンプを押してくれ、コンゴの国境へ向かうことになる。
そこまでの約3キロほどが史上最悪。。
なんとそこまでその係官が一緒に行ってくれると言う。
偉く優しい。
途中までは良かったがある地点から急激な上り斜面。
地割れも凄く、道と呼べない地面はバイクが通れるラインはタイヤ幅ほどしかない。
ここでも何度も転倒したためついにイミグレの係官が
「バイクを交換しよう。私が走ってみますよ」と。
彼は兵士でもあり特殊な訓練を受けているのとその道でさえも走り慣れた地元民であるため上手に私のバイクをDRCコンゴの国境まで運んでくれた!
それも彼が履いているものはビーサンだ!(驚)
もうこれは素直にブラボーと言いたい。
そして自分のバイクの運転技術の低さも素直に認めることにする。

Finally I arrived at the border of Angora side and the officer finally stamped the immigration stamp and I can go to the border of Congo. The road to the border of Congo is about 3 km and the worst way ever... The officer offered me to go there with me. Very kind. The middle of the way was OK but it became a sudden downhill slope from one point. The crack is really bad and the road which I cannot say it's a road has a too narrow line which just the motorbike can go through. I fall down many times here too, so the officer said "Let's change the driver. I will drive." He used to be a soldier and had special training before, and also he got used to go through here because of the local, so he brought my motorbike to the border of DRC Congo! Moreover he wore a pair of flip flap! *surprised* I just want to say "Bravo" for him. And I'm accepting my driving skill is weak.

マケラ往復を余分にしたため結局、コンゴ側の国境に到着したのは15:00過ぎ。
宿があるような町まで行くのは道の状況も判らないので予定が立たない。
国境の村で泊まりたいと村人に告げると私の家にどうぞと言ってくれる人がいた(国境係官:Mr. Diana Konde Anicetさん28歳?)
お世話になることになりここを使っていいよと言われた部屋に荷物を入れていると、村長さんや年上の方が集まってきて少し話しをした。
用意してくれた部屋はすごい場所だが(笑)本当に有り難い。
皆、素晴らしく優しく人助けの気持ちが強い方々ばかり。
また夕食はDianaさんが作ってくれた。
ライスと魚料理だったことだけは判る。
それ以外は不明(笑) 
沢山出してくれたがあまり食欲がわかず(笑)大分残してしまい申し訳なかった。
21:00前に寝る事にする。
そしてまた二日連続寝袋を使うことになった(笑)

Since I went and came back to Maquela too much, eventually I arrived at the border of Congo little after 15:00. I cannot make plan because I'm not sure the road situation to get a town which has a hotel. I asked an officer that I want to stay at a village close by the border then he offered me to stay his home. (The border officer: Mr. Diana Konde Anicet 28 years old?) He took me to the room which he let me use and I put my stuff there, then a village head and older people came and talked with them a bit. The room was kind of speechless (LOL) but I really appreciated. People from here are very kind and conducive. Moreover, Mr. Diana cooked dinner for me. I can recognized that it was rice and fish but I couldn't know other ones. (LOL) He served me a lot but I didn't feel like to eat that much so I left a lot. I felt sorry about that. I tried to go to sleep before 21:00. And I have to use my sleeping bag AGAIN. (LOL)


【Dianaさん宅:いくらでもいいよと言うのでアンゴラ通貨2000円分受け取ってもらった/夕食付き】

[Mr. Diana's house: He said doesn't mind how much, so I gave him the amount of 2000 JPY as Angora's currency. / Included dinner.]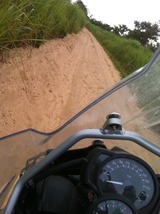 この砂道がさらに深くなります

This sand is getting deep.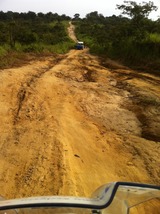 二度と行く事も戻ることも辞めて乗り捨てられた車があるほどの悪路

A bad road which there was a car that gave up to go forward or come back.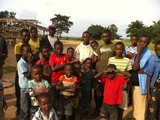 道の終点のようなところの村人達

People from the village which the end of the road.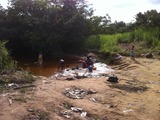 川で洗濯。
桃が流れて来る感じではない(笑)

Washing clothes at a river.
It is not like "A PEACH" comes from. (LOL)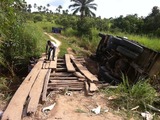 この橋を渡るのが恐怖だった。

I was scared to cross this bridge.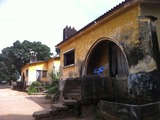 行き着いたアンゴラの最北端の国境

Finally I arrived at the

northern end of the border in Angora.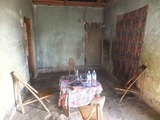 DRCコンゴ側の国境に入った所で時間切れ。泊めて頂いた家のリビング^^
I came into the border of DRC Congo side then my time was running out. This is the living room at the house which I stayed. :-)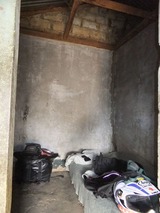 私に提供してくれたベッドルーム^^ ずーっと、ネズミの合唱が続く部屋でした(笑)

The bed room which he let me used. :-) I had been hearing singing voice of mouses. (LOL)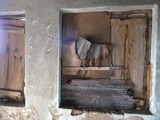 つぎはぎの窓。ある意味芸術的?

The patchy window. Kind of art?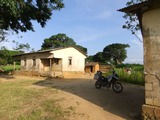 小さな村なのでバイクに集まる人も少なかった。疲れきったバイクも静かに休む。

It was very small village, so less people when they came to my motorbike. My motorbike which has been exhausted is taking rest calmly.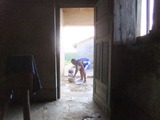 一生懸命、私の分まで夕食の支度をしてくれた

He prepared my dinner too.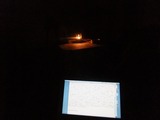 夕食が出来るまで、ブログを打つ。水道、電気がないのでアルコールランプとパソコンの電力のみが光る。同じ光りでも味が違う。

I wrote my blog until the preparation of the dinner done. It has no running water and electricity, so only a

spirit lamp

and my laptop are lighting. The taste is different even it's light.